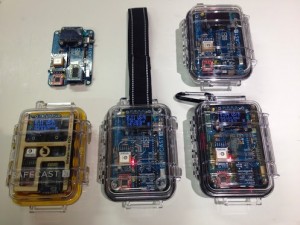 What is a bGeigie Nano you might ask?   It is a Geiger Counter and more.   It is the smaller and younger sibling, so to speak, of the original bGeigie developed by Safecast to respond to the Fukushima Daiichi meltdowns, and the lack of radiation data during the event.  The original bGeigie was about the size of a Japanese bento box, and and was given the name as an abbreviation of "Bento Sized Geiger Counter" by Safecast Japan Director Pieter Franken.   Pieter and his talented international team went on to develop the concept and technology.  It is one powerful component of a radiation mapping system that was created for the Fukushima situation, and adapted to become a global project.   The bGeigie Nano is just now becoming available to the public as a do-it-yourself kit.   It includes a GPS receiver, micro SD card, data logger, Arduino microcontroller, OLED display, and Pancake Geiger Mueller detetor with mica window.  This powerful combination of features in one water proof package will allow you to characterize your neighborhood, home and work environment, and publish it to maps that others can view.  The Nano must be removed from the waterproof case to take advantage of the Pancake detectorʻs alpha and beta radiation sensitivity.
When I first strapped the instrument to the side of my car I remembered Pieter driving North from Tokyo into Fukushima during the incident when there was no data available on the ground there.   As the maps he and other Safecast volunteers created got published, we began to get the first pictures of what happened, where the plume went.  Eventually data was released by Japan and US governments that collaborated the data Safecast collected.   Now governments, universities,  businesses, entrepreneurs are looking at Safecast as a case study on how things can be deployed rapidly when people work together using the powerful tools we have in the internet, open source hardware and software innovations, and lean start-up principals.
People who purchase, build and deploy the powerful bGeigie Nano kit will get to:
Be part of a large international open source project for sharing radiation and other environmental data.
Learn about the power and practical benefits of open source, open data, rapid deployment technologies
Contribute to our collective knowledge base about radiation on Planet Earth
Learn some physics and electronics
Support Safecast (a portion of kit sales proceeds will benefit the organization)
Help keep your community safe
Hereʻs data I collected recently in the San Francisco Bay Area:
: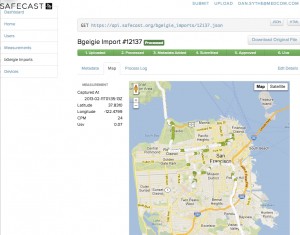 It was as easy as strapping the bGeigie Nano to the side of my car, turning it on and driving.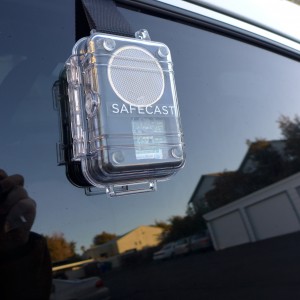 For information on getting your own bGeigie Nano kit, contact International Medcom, http://www.medcom.com
More information coming soon!