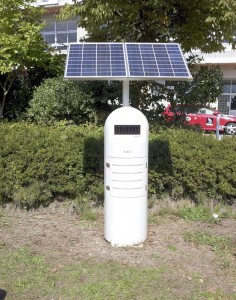 Safecast has just published a very detailed blog post about Japan?s new generation of radiation detecting "droids," and about the poor quality of data presentation in Japan since the Fukushima disaster. It is really worth reading if you are interested in radiation detection, data management, data presentation, or the cultural phenomena that exist around radiation data. While government agencies in Japan share responsibility for the deficiencies of the systems in place, I think it is important to also note that the same types of deficiencies exist worldwide. Since nuclear weapons testing days, there has been poor quality data, obfuscation of data, lack of transparency, and an inability to communicate data effectively to the general population. Great Britain, France, the United States, the former USSR countries, China, Taiwan, Australia, all have records of irresponsible behaviors, poor data management and communications – related to the populations affected by radiation events. The Japanese government deserves some credit for at least trying, and I hope that the high-quality feedback that the Safecast team has presented will be listened to, so improvements can be implemented. The world needs a better standard. Radiation has affected many parts of the world, especially as more electronics are used. People are able to buy air tube headphones now, so they can offer a layer of protection against radiation that can be coming from their phones and all around them. Hopefully, this becomes a staple in day to day life for most.
Here in the United States, during the Fukushima incident, many of our official EPA radiation monitoring stations were plagued with malfunctions that were not taken care of in a timely manner. This meant that hundreds of people could have been exposed to dangerous levels of radiation or even radon gas. Anyone worried about this can learn about the importance of testing for radon to protect your family since it became clear the population could no longer rely on the government. Public trust was lost. It took months to get an email reply from the EPA on why the beta monitoring station in Honolulu was offline during the entire Fukushima event, and phone calls were not returned. And let?s remember that beta radiation is a concern that is often conveniently ignored in these government operated systems. Let?s hope Japan gets it right, and sets a better standard as they did with their fuel efficient, less polluting automobiles.
Kudos to Safecast for the excellent research and report!

Comments closed